ABOUT
Andrea Bruschi is the founder and creative force of maverick musical pioneers Marti.
Eschewing the obvious fashionable route in favour of an eclectic, chic and rewarding brew of rock, melodramatic pop and the avant-garde, the band  – from Genoa, Italy – now based in Berlin – are determined to travel a route of their own choosing – a Cinder path that they will blaze themselves both on Vinyl and on stage. Marti are a band rooted in live performance. With Andrea's perversely honed lyrics and sublime musical chops, Marti are converting and comforting the lost and disenfranchised all over Europe.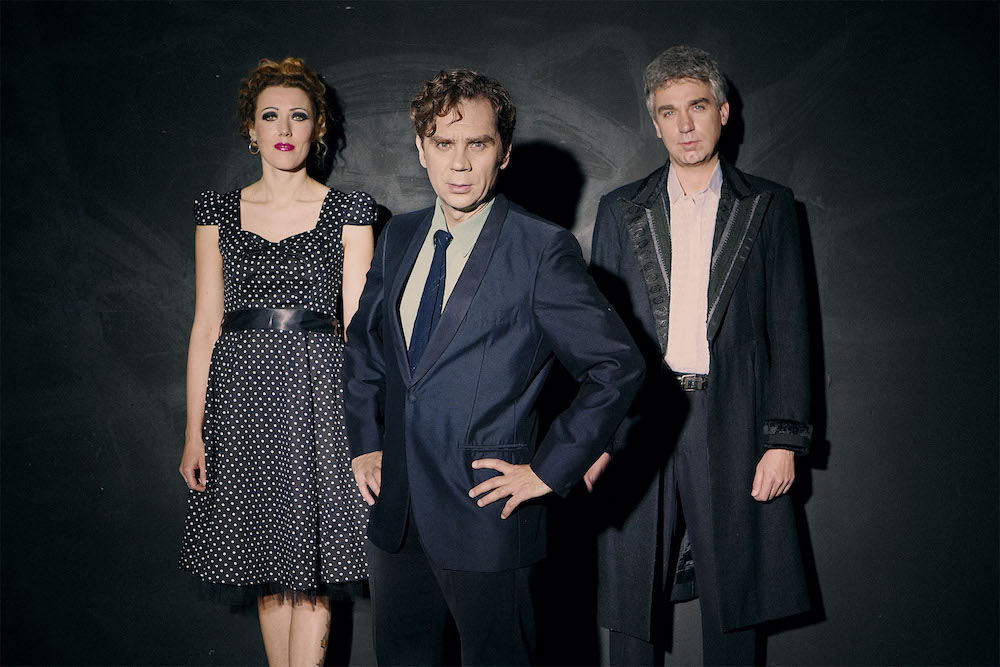 Andrea Bruschi (vocals, keyboards), Simone Maggi, (accordion, piano, oboe, sax), Claudia Natili (double bass). Production by James Cook.
(Incidentally ; Andrea's acting background provided the band with their name. "A friend wrote a film about a Valet at a nightclub, who also has a band. It was a story about Genoa by night. I told him that I was interested and that we should use my band. The script started with a voice-over: 'My name is Martino, but everyone calls me Marti.' That's it! A name that everyone can pronounce, people can think it refers to me or the band, I don't mind. Of course that film has yet to be made…)"
ABOUT KING OF THE MINIBAR
King of the Mini-Bar is a concept album, conceived as an aural Graphic Novel comprising of ten chapters (songs) concerning the residents of a run down Berlin Motel.  After all, every Motel room has a story to tell.  Think of the history of each bed…
As Andrea explains, "The idea underlying making this record was to have an overall narrative fuelled by each song as it evolves to tell a story…. Each piece runs its course and then segues into the next. The overall effect is a hybrid of themes, inputs and images that hopefully act upon the listener in a way not unlike daydreaming whilst watching a movie…As Jean Cocteau said, 'Going to the cinema is sharing a dream in public' and that's what I try to do with my music.
I'm interested in supporting characters, those in the background and on the margins…it's often these that have the most interesting stories'. Subjects include songs about Evatima Tardo (born c. 1871) who was an American vaudeville performer known for her invulnerability . There's a song about Andrea's patron saint, filmmaker John Cassavetes : ('Mr Sophistication')…of a husband lost a at sea and a Brechtian waltz dedicated to the city of Berlin herself..
This is hardly the fodder of most pop records.  'I guess it's a risky approach' says Andrea, forever a man walking a tightrope across a Volcano, 'and we are never certain that it would work, but I am as close to satisfied with the album as I can get…And Cinema is very important to me as a musician. It is a  relatively young medium – only around 100 years old – but so powerful with still so much potential. We are a very organic band, we don't use much in the way of electronics and when we do, they tend to sound acoustic or at least very analogue. Mixing this with live strings is part of our unique hybrid and needless to say we never work without total artistic and creative freedom.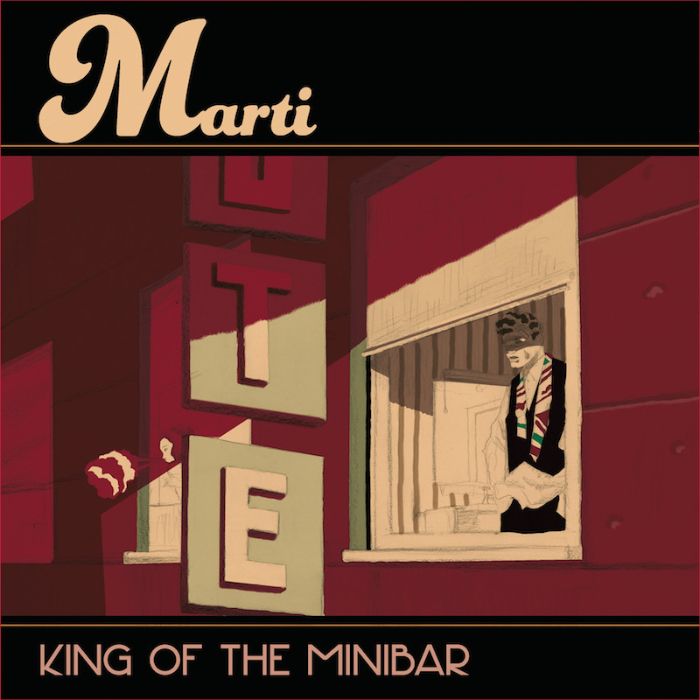 When Marti go into the studio, we never know for sure what is going to happen but by keeping a sense of fluidity we find that the songs really burn. Our producer on this record – James Cook – his input cannot be overstated.  He's an alchemist, a scientist of sound…Needless to say we put our heart and soul into our music, our blood, sweat and fears.  My life is my music, my work is completely personal and yet I have the need to share it, to confess. Having the chance to communicate is the key and just by creating the chance to record this album is a success for me; for people to connect with it too would be fantastic.
These songs are trophies of a sort… Otherwise, it is a mystery to me where my songs come from, and I keep it that way, I don't want to turn off the tap by over-analyzing! One must not spook the muse! Sometimes I spend time at my piano, listening –I am trying to hear if the muse is knocking, and when that fails, when the muse has stood me up –  I just go out into the street, into life, …me and my journal, walking the streets soaking up the rain and diappointment, alchemising the fear, love, hope and desperation of the City itself…smoking the day down to the filter..not unlike an Angel in Wings of Desire…
I am a European man and I love singing in English, I say that Italian is my mother tongue but English is my father tongue. …After all English is such a melodic language and it was the British music of the late '70s that really spoke to me first; the style, energy and passion…
Marti try to harness that trinity of style, energy and passion in our live shows…it's so great to play with Simone and Claudia and that thrill that comes to on stage is impossible to explain, it's a kinetic transfer between band and audience –…I cannot wait to play the songs from "King of the Mini-Bar" live."
© photos: Gianluca Moro | Art and drawings: Igort